The BIGGEST break-through in ACNE TREATMENT in over 100 years ...

Making Acne Bacteria Defenceless.
*Available for a Limited Time Only*

Biofilms are the reason for Antibiotic Resistance, and they have been impossible to remove ... UNTIL NOW!
Acne bacteria produce a sticky glue that coats them acting literally like a forcefield, meaning anything you throw at it just can't penetrate this powerful barrier protecting them. Biofilms are the key reason for antibiotic resistance and are the biggest challenge to clearing acne.  This sticky coating doesn't just protect the bacteria, it also coats skin cells, literally causing them to become stuck in your pores. This leads to an increase in congestion and breakouts ... that was until a revolutionary discovery by a Chemist in Australia.
Many acne sufferers try to clear their skin by using high percentages of actives like Glycolic, Retinol and Benzoyl Peroxide (Discovered 1856). Totally unaware that none of these will even make any impact due to an invisible coating that acts as a forcefield preventing the eradication of the bacteria responsible for acne.  Making it impossible for you to ever to get fully clear. Instead you are left with a sensitive, angry and inflamed skin which now stings with every single product you use.
The forcefield is called a BIOFILM - and it is present in all skin infections and plays a major role in the development of acne!
After years of research, Jacine discovered that lactones when fermented with yeast, produced a remarkable molecule that literally obliterated biofilms, removing them completely.

EXCLUSIVE TO ROCCOCO BOTANICALS, THIS UNIQUE MOLECULE IS PART OF OUR NEW, HIGHLY EFFECTIVE SKIN CARE FOR ACNE.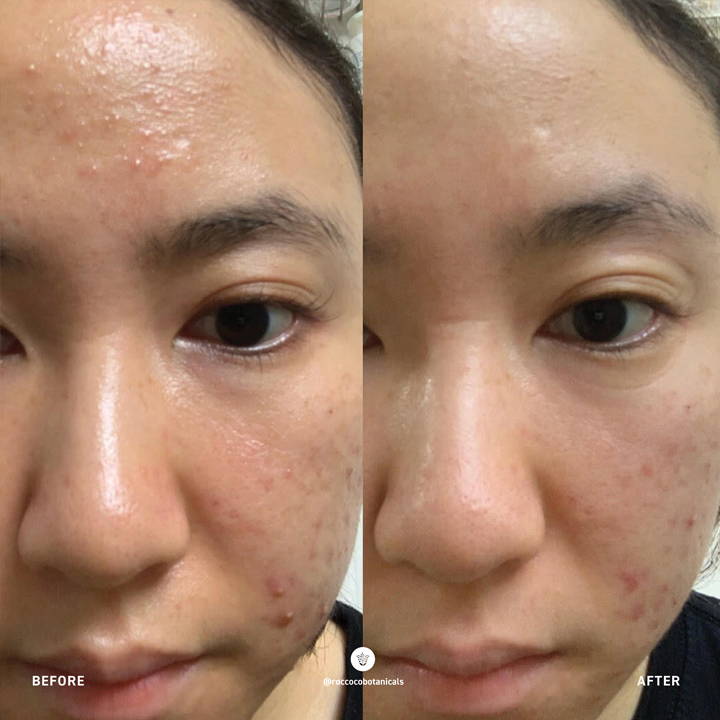 "
"First we tested on fungal acne to see what results we could get. We were blown away! Clients who had tried for years to clear their fungal acne unsuccessfully, and now, it was gone in under a week. Previously we had tried Mandelic Acid in high percentages with absolutely no success and yet it is a known anti-fungal ingredient."


Jacine Drummond, CEO & Chief Chemist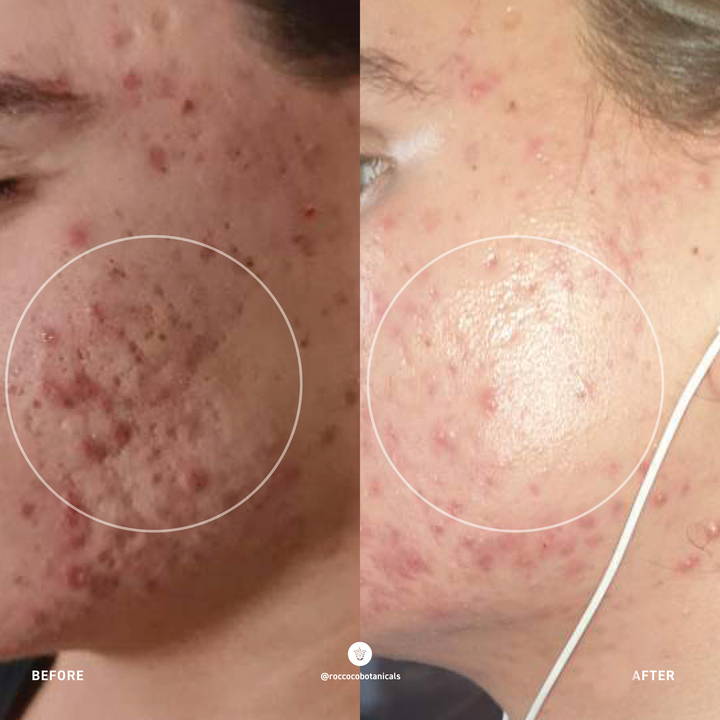 "
"When we trie it on more difficult acne and again the clearance ins such a short period of time was insane. We realised that the removal of the biofilm made such a MASSIVE difkference with the results you could get, and it was faster than we had ever achieved previously. No only did we notice that the acne was clearing but also that the skin was repairing and out clients were getting a lot less scarring. We dind't realise that this biofilm was literally secreting inflammatory molecules that prevent you skin from repairing and healing properly. By removing it the skin was able to heal, instead of remaining scarred and inflamed with red marks everywhere."
Jacine Drummond, CEO & Chief Chemist
"
"I've used most of the Roccoco range, but NOTHING has made as significant improvement in my folliculitis as these products. I've more less maintained clear skin using these few gems."
Denise Yuen, Singapore.
"
"I am super excited the new line is FINALLY coming!! I do hope the price point is good since I have four teenagers that need it !! Again, thank you so much for allowing Candan and Chantel to participate in the trial. It was an honor. And we KNOW the line works."


Christina K, USA.
What are the Benefits of using our 3-Step-System?
More hydrating than a hyaluronic acid serum.
Only product available that removes the biofilm.
Only product available that removes the biofilm.
99.5% natural with no toxic ingredients.
Prevents the formation of new breakouts.
Removes the glue that is causing your skin cells to stick.
Powerfully effective against fungal breakouts and fungal acne.
No bacterial resistance like you get from antibiotics.
Helps your skin to repair minimising the appearance of scarring.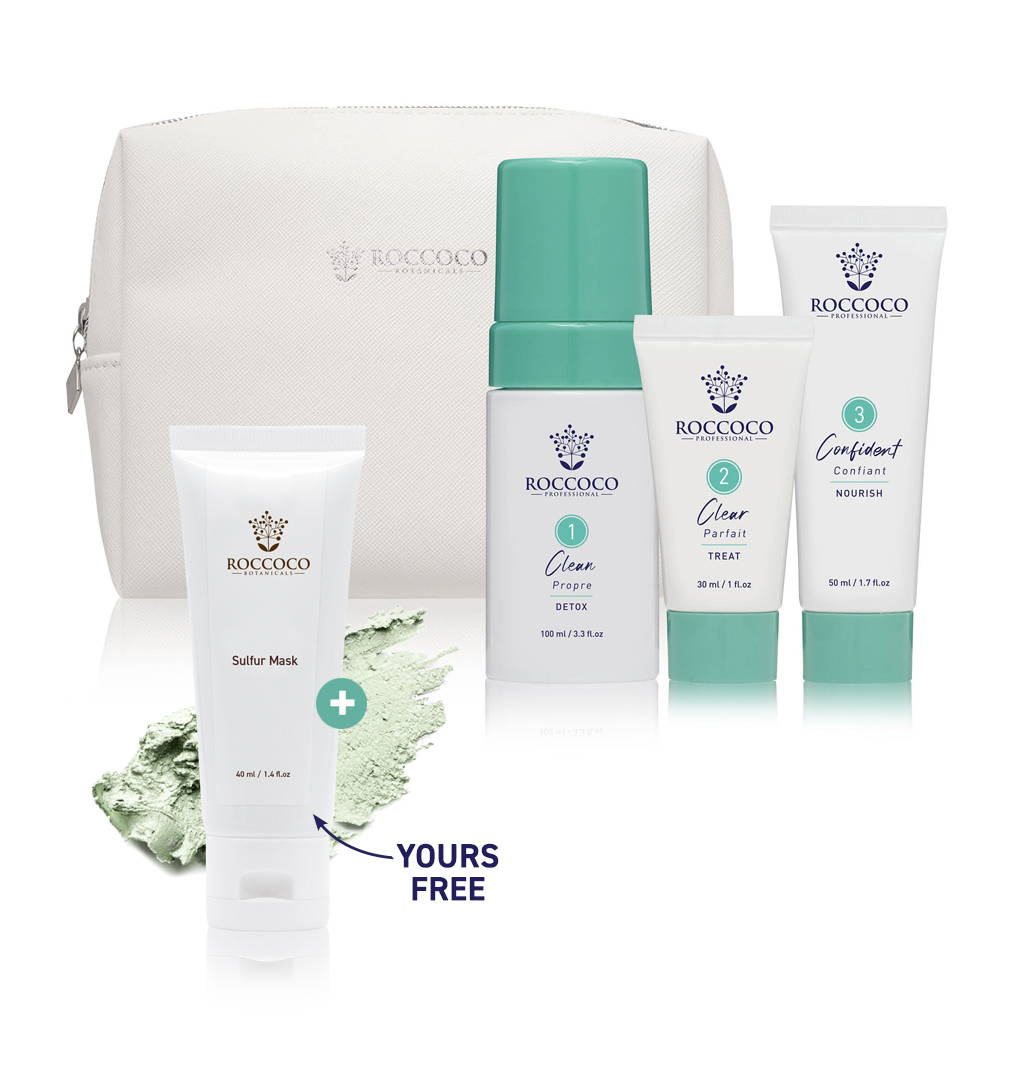 Clean, Clear, Confident.
3-Step Anti-Blemish
Skin Care System.
For a limited time when you purchase this revolutionary 3-step Acne Busting System, you will receive a Sulfur Mask FREE
(That's a whopping $58.00 value, FREE!!).
*Available for a Limited Time Only*
---
PATENTED INULIN TECHNOLOGY
---
This revolutionary ingredient forms a "Liquid patch" on the skin, literally acting like a hydrocolloid bandaid, increasing penetration of the actives into the skin by up to 50% for better efficacy and faster results.
BAKUCHIOL NATURAL RETINOID
---
Nature's safe retinoid alternative. Bakuchiol has studies showing efficacy with the treatment of acne. It brightens the skin and smooths the skin texture, regulating cellular turnover which leads to less clogging.
SALICYLOYL PHYTOSPHINGOSINE
---
Combines the benefits of Salicylic Acid with ceramides. Exfoliates deep within the pore and restores hydration to the skin, keeping the skin smooth and free from scaly dry patches. Stimulates repair of damaged skin.
---
First we remove the biofilm with our proprietary cleanser. This removes the glue holding down the skin cells and also makes the bacteria vulnerable to antimicrobials.
We then use targeted antibacterial and antifungal agents that balance the bacteria.
We provide the beneficial bacteria with a food source that can not be consumed by the bacteria which are causing acne, promoting microbiome balance.
We use actives that assist in wound healing and stimulate collagen production, so scars start to refine and heal.
Our patented inulin provides a barrier for the skin, forming a liquid patch to enhance penetration of the actives and promote healing.
The Research Showing How much Biofilms Impact Acne and Healing
OUR 30-DAY SATISFACTION GUARANTEE, OR YOUR MONEY BACK!
We offer a 30 day money-back guarantee.  If you are not happy with the results after using our products consistently on a daily basis for 30 DAYS, we will give you a refund. We do require before and after photos to understand your concerns, so please remember to take photos before starting your products.
WHAT IF I HAVE AN ALLERGIC REACTION FROM USING THE PRODUCTS?

We will be happy to refund you as long as you provide us photos of your reaction. If you have known skin allergies, we suggest consulting your GP or testing the mask on a small patch of skin either inside of your elbow or behind your ear. $10 for shipping cost will be deducted from all refunds.